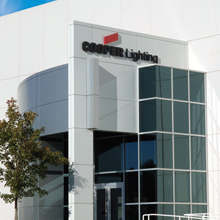 02 Mar

LMI Visits Cooper Lighting
On Wednesday, February 25th, 2015,  a couple of members of the management team of Lighting Maintenance Incorporated (LMI)  traveled to Peachtree, GA, which is outside of Atlanta, to visit Eaton's Cooper Lighting business's source facility for educational product training.  This training was hosted by our partner, CapitalTristate, with the intention of teaching LMI, about the latest and greatest technology while building better relationships with our partner and gaining new relationships in the process.
Cooper Lighting is an entity of Eaton, who is known for being a powerhouse in the electrical manufacturing industry.  Cooper Lighting is also one of the top lighting industry leaders in the world.  Our team was able to meet great people that delivered phenomenal presentations on cutting edge technology.  We realized very quickly that we were sitting in the same room with some of the most intelligent professionals in the business. Needless to say, we were amazed.
LMI is a dominant lighting and electrical contractor in the North-Eastern region, which prioritizes our need to stay in tune with the quickly evolving market.  The knowledge gained on this trip provides us the tools to be successful in selecting the appropriate products for our customers to ensure quality, efficiency, and safety for every application and installation.
We returned safely on Thursday, February 26th, ready to use these tools with our new and existing customers.  A powerful relationship has begun with Eaton's Cooper Lighting business and our bond with CapitalTristate is even stronger.  Going forward, LMI will deliver enhanced solutions with industry leading products for our customers and continue to grow the relationships with our current and upcoming partners.